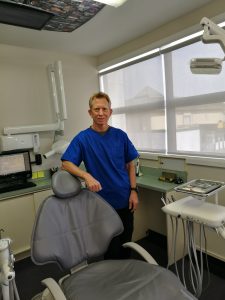 I graduated in 1984 with a B.D.S. After 2 years working in the North Island I did the 'usual' stint in the UK for 3 years before returning to Christchurch in 1991 and taking over the practice from John Muir.
I enjoy all aspects of dentistry including oral surgery and I can provide intravenous sedation for anxious patients or difficult procedures.
As the demand for implants has increased I have found these to be a great solution for those people who have missing teeth ie. due to an accident.
I have always enjoyed being active and if I am not running around Hornby during lunchtime then I am probably either tramping or biking.
I am very lucky to have a great assistant, Chelsea who makes sure all the sterilizing of instruments is done according to the latest guidelines and helps me to make sure your visit is as easy as possible.