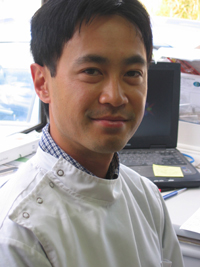 Originally a country boy from Oamaru, I graduated from the University of Otago with my Bachelor of Dental Surgery in 1994. I worked in Hamilton at an accident and emergency dental clinic for three years and during that time got my private pilots license. I then decided it was time to see the world. I travelled extensively in Europe and UK and did some dentistry under the NHS which was a great experience.
I returned to New Zealand to work travelling school to school working from the Geddes Dental Group caravan providing services for the high school aged children
under the government funded dental benefits system.
From there I travel again and back to the UK to work some more then arrived back in Christchurch where I worked for Team Dental Riccarton providing some after hours dental treatment which I served for 5 years
Now I'm here at the Hornby Dental Centre after purchasing the portion of the surgery from long time serving Dr Don Moy. I have now been here since November 2004. And very much enjoyed the change and relaxed environment of this well establish clinic.
My main interest outside of work is Ice Hockey and Cycling. But will give anything a go.